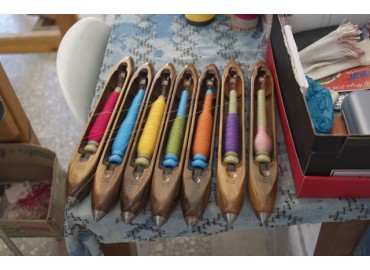 Alaca Weavings
08/07/2018 | Eldoku
There are so many hidden treasures in Turkey that only a wondering eye can see, and this is exactly whats happening to us, that we are always attracted by a beauty and richness while traveling in countryside. Being on our way to Antalya we decided to do a short visit to Burdur, a small town in south-west Anatolia. We had in mind to look at the 'Alaca Textiles' and visit the weaving workshop, where they are produced. What a good decision: We met 8 women operating 25 weaving looms, with their sales shop in the very near.
All of the ladies were employees of the Municipality of Burdur, happy to gain their living by using the old traditional weaving method. So dedicated, they even have to take work home sometimes, to finish an order in time.
Life in Burdur is relatively contemplative. One important requirement to become a member of the Cittaslow Organisation. (Cittaslow is part of a cultural trend known as the slow movement.) We are full of hope, that the community of Burdur soon lodges the membership application. An important step along the path for the old traditional weaving method gaining popularity.
Responsible for the activities around the weaving workshop is Mr Ender. Riding everywhere by bicycle he supports the activities of 'Alaca Textiles' with his innovative approaches. After studying in Istanbul he wants to make Burdur's special artwork more popular.
Since years we just passed by Burdur. Fortunately this time we stopped, took some time and visited this cute little town. And it was worth it. If you want to follow our path, then for sure you have to taste the walnut mash! Its a miracle! You should try the brand 'Altiparmak'!
For your info on Instagram: Dokumaları @blacadokuma